Dentists
Dr. Anthony Agamah BDS
GDC: 67602
---
Dr. Zaheer Abbas Bhanji BDS
GDC: 103403
---
Dr. Robin Richardson BDS
GDC: 67644
---
Dr. Ninette Sukumar BDS
GDC: 270832
---
Dr. Jess Callow BDS
GDC: 290154
Hygienist
Jill Young
GDC: 2829
Implant Specialist
Dr. Sanjeev Ramrakha BDS MSc
GDC: 70764
Practice Manager
Penny Jones
GDC: 122074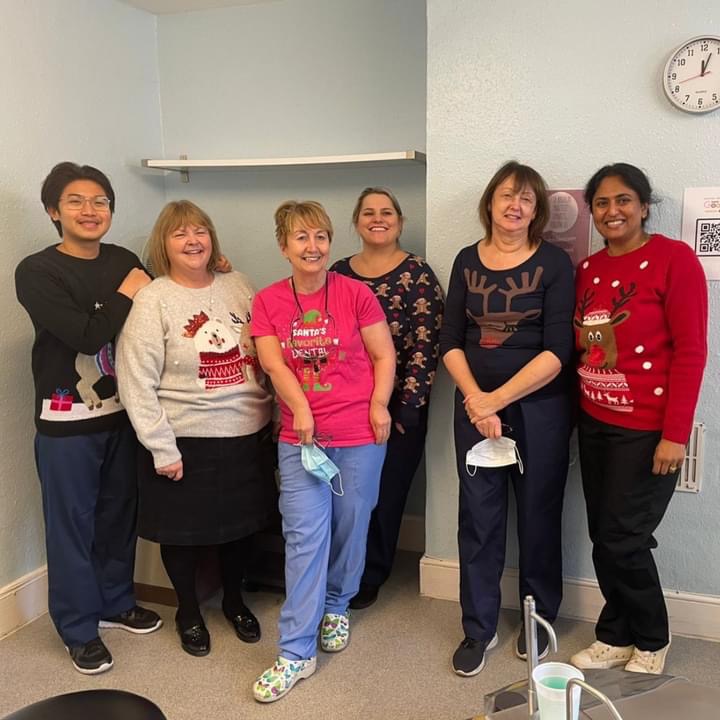 The Nurses
We have ten dental nurses.
Our head nurse is responsible for ensuring the surgeries run smoothly, liaising with the Practice Manager and deputising when necessary. Most of the nurses are qualified and have completed post qualifications in dental radiography, oral health promotion and application of dental varnish. We also have trainee dental nurses undergoing their dental qualifications.
All the nurses work with the dentists and dental therapists. They assist the clinician, ensuring that everything is ready for the next treatment. An important part of their role is to give support and reassurance to patients during their treatment. They are always happy to help and answer any questions.
Reception
We have two receptionists who work on the reception desk. By having dedicated receptionists, it always means there is a familiar face when coming into the practice.
The reception desk is open from 8:30am-12:30pm, then 1:30pm-5pm from Monday-Thurs (the practice is closed for lunch between 12:30pm-1:30pm); and 8:30am-2:00pm on Fridays.
Practice Manager
Penny, our Practice Manager is responsible for the smooth running of the practice.
Penny does this by setting and monitoring the policies required to ensure that every aspect of dental care is safe and carried out to the highest standard possible; this also includes handling complaints.
Staff well-being is another important part of her role.
Contact Us
For more information or to contact us about any general enquiries, please contact us here.